Checkout Hair, Skin, and Nails Redefined, which works really well with Collagen Redefined
What Redefined Vitamins® says about Collagen Redefined:
Collagen Peptides to Support Healthy Skin, Bones, and Joints
Collagen Redefined contains Fortigel®, Fortibone®, Tendoforte®, and Verisol® collagen peptides to promote vibrant skin and nails while also supporting healthy joints, bones, ligaments, and tendons. Fortigel® promotes joint health. Fortibone® promotes bone health. Tendoforte® promotes healthy ligaments and tendons. Verisol® supports skin and nail health.
How Collagen Redefined Works:
The primary source of protein in our body is from collagen found in the connective and fibrous tissues. Collagen is integral in connecting parts of the body including tendons, ligaments, skin, bone, and cartilage. Collagen is an amino acid built from peptide chains and is a concentrated source of proline, glycine, and hydroxyproline.
Healthy Skin and Nails: Collagen production decreases as we age resulting in dry skin and brittle nails. Collagen peptides such as Verisol® may help support elasticity and hydration of the structural components of skin and nails. Clinical studies demonstrate oral supplementation with collagen helps promote healthy skin and nails by stimulating natural collagen production processes along with other proteins in the body.
Healthy Joints: Healthy joints are protected by cartilage. Collagen supports the integrity of cartilage, but unfortunately collagen production decreases as we age. Dietary sources of collagen such as Fortigel® may help support this symbiotic relationship. Clinical studies demonstrate supplemental collagen's ability to help promote healthy cartilage production and support healthy joints.
Healthy Bones, Ligaments, and Tendons: Healthy bones, ligaments, and tendons are the result of healthy collagen in the skeletal system. Collagen in the bones, ligaments, and tendons supports flexibility, elasticity, and mobility. Dietary sources of collagen
such as Fortibone® and Tendoforte® may help promote healthy bones, ligaments, and tendons. Clinical studies demonstrate supplemental collagen's ability to help promote healthy bone collagen matrix.
Why Use Collagen Redefined?
Collagen Redefined is the ideal nutritional supplement for individuals looking for a comprehensive formula to support concentrated dietary collagen intake. This easy-to-mix unflavored powdered formula is a rich source of collagen peptides to support healthy skin, nails, joints, bones, ligaments, and tendons.
Collagen Redefined is an unflavored blend of collagen peptides to support healthy skin, bones, and joints. This concentrated dietary source of collagen is an excellent choice to support high protein intake with a host of health benefits including:
Support for healthy skin appearance
Promotes healthy nails
Support for healthy joints
Promotes healthy bones
Support for healthy ligaments and tendons
General Recommendation: Shake canister before scooping. Mix 1 scoop in 8 ounces of water, your favorite beverage, or a recipe as a dietary supplement or as directed by your healthcare practitioner.
Net Wt 18.52 oz (525 g) per canister - about 30 servings
Serving size: 1 scoop (17.5 g)
One scoop supplies:
| Ingredient | Amount | Daily Value |
| --- | --- | --- |
| Calories | 60 | |
| Protein | 15 g |   |
| Sodium | 35 mg | 2% |
| Collagen Peptides | 17.5 g |   |
|    Gelatin Hydrolysate (FORTIGEL®) | 5 g | ** |
|    Gelatin Hydrolysate (FORTIBONE®) | 5 g | ** |
|    Gelatin Hydrolysate (TENDOFORTE®) | 5 g | ** |
|    Gelatin Hydrolysate (VERISOL®) | 2.5 g | ** |
| Amino Profile |   |   |
| Alanine | 1,290 mg |   |
| Arginine | 1,100 mg |   |
| Aspartic Acid | 870 mg |   |
| Glutamic Acid | 1,530 mg |   |
| Glycine | 3,330 mg |   |
| Histidine | 150 mg |   |
| Hydroxylysine | 240 mg |   |
| Hydroxyproline | 1,790 mg |   |
| Isoleucine | 210 mg |   |
| Leucine | 410 mg |   |
| Lysine | 540 mg |   |
| Methionine | 140 mg |   |
| Phenylalanine | 320 mg |   |
| Proline | 1,910 mg |   |
| Serine | 480 mg |   |
| Threonine | 270 mg |   |
| Tyrosine | 120 mg |   |
| Valine | 360 mg |   |
| * Percent Daily Value (DV) is based on a 2,000 calorie diet. |   |   |
| ** Daily Value (DV) not established. |   |   |
Other Ingredients: Bovine Collagen Peptides.
If you are pregnant, nursing, or taking medication, consult your healthcare practitioner before use. Keep out of reach of children.
FORTIGEL®, FORTIBONE®, TENDOFORTE®, and VERISOL® are registered trademarks of GELITA AG.
* These statements have not been evaluated by the Food and Drug Administration. These products are not intended to diagnose, treat, cure, or prevent any disease.
Returns Policy
At Redefined Vitamins®, we want you to be 100% satisfied with your purchase! If you aren't, let us know. You may return any eligible unopened item within 30 days of purchase. All products requiring refrigeration are non-refundable unless something is wrong with the product. Products must be returned at your expense unless there is something wrong with the product.
Contact our customer service team to initiate the return process. For questions about returns, contact us at info@redefinedvitamins.com. Your satisfaction is important to us!
Shipping
Shipping is FREE anywhere in the continental U.S. for all orders over $75! For more details on our shipping fee structure, please visit our FAQ page here > https://redefinedvitamins.com/pages/faq. We ship orders Monday through Friday.
Our goal is to get products in your hands fast. Once you place your order, we will process it and get it out to you as soon as possible. We usually ship the same day your order was placed, or the next business day (M-F), except for extra-perishable items that might spoil if left on a delivery truck for extended periods of time. In cases like these, if you place an order for a perishable product on a Thursday or Friday, we would wait until Monday to send it. Your order will typically arrive within two to five (2-5) business days after it is placed. You will receive an e-mail notification after you place your order and again when your order has shipped.
International Shipping: some products, such as probiotics, we can't ship internationally due to a scanning procedure that kills the bacteria in the probiotic, rendering it useless. Please contact our customer support team at info@redefinedvitamins.com and provide the specific products you would like to purchase and your mailing address. We will do our best to fulfill your order, and we'll provide an estimated shipping cost specifically for you.
Customer Reviews
05/11/2022
Patricia L.

United States
Great for Skin & Joints!
I add this daily to my morning smoothie and have seen great results with my skin. Love the way I look and feel! I also have a type of arthritis in my back and notice less flare ups since I've started using this.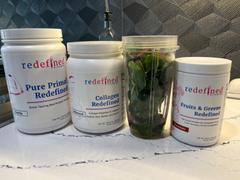 01/02/2022
Petra C.

United States
Great product
My husband and I have been using this product for more than a year and we both see the benefits of it. It is a great product at a reasonable price. Thank you!
12/29/2021
Erica T.

United States
This Collagen is great in smoothies!
I've been using Collagen Redefined in my smoothies daily and I've noticed improvement in both the strength and shine of my hair, as well as, my skin being less dry. Love that it is flavorless so it works in any and all smoothie flavors I make!